Benidorm Pubs
Benidorm Nightlife has hundreds of pubs and clubs throughout the town and it truly does offer something for everyone from good old karaoke and live music to the best dance club mix. After many years of drinking and hundreds of late nights we have listed many of our favourites some of which we visit on the famous and outrageous Club-it Benidorm Bar Crawl. If you do only one thing when you come to Benidorm it should be the Benidorm Bar Crawl where we take you on a 5+ hour Bar Crawl to the best bars in Benidorm, visit us on Facebook for more info and current photos facebook/clubitbenidorm
Where are the best Benidorm pubs?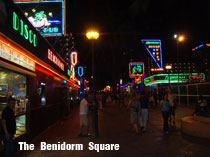 All our favourite Benidorm pubs are numerically represented on our map so print it off before you come over. Benidorm has two beaches the Poniente and Levante which are divided by the spanish quarter know as the old town. The majority of the English bars are on the Levante side, the new town and all of these are in the vicinity of the square and Rincon de Loix. You will also find even more Benidorm Pubs on The Benidorm Map, a very useful Benidorm website.
Why not join us for the Pub Club-it bar crawl or purchase a Club-it book and do your own thing. Either way within no time you will have  seen and probably got drunk in the best Benidorm pubs and be on your way to having a great holiday. Have a look at our Benidorm Photos to see what you could be letting yourself in for.

Benidorm Beach Bars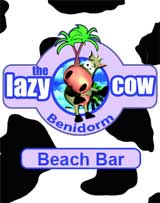 The Lazy Cow is one of Benidorm's Crazy Party beach bars and as they say "if you don't like it load then stay away. Located on the Levante Beach just 100 meters from McDonalds in the Rincon de loix.

The Benidorm Square
The Benidorm Square is sometimes mistaken for a pub or club but it is actually a collection of pubs and clubs and makes up the main strip where you will undoubtedly end up at one stage or another. The Square in Benidorm and the surrounding bars are the main area for English tourists and is made up of around 15 bars and clubs. The last clubs on the square empty about 7am, just in time for breakfast back at the hotel.

The Shamrock Benidorm
The Shamrock Pub in Benidorm is a traditional Irish pub and has the best life band in Benidorm - The Rovers. The bar is open all day from 12 noon serving excellent food and the party atmosphere goes on till 2am in the morning
Vincents Corner Pubs Benidorm
Vincents Corner Pubs have been entertaining British Tourists since 1965 and each of the pubs offers something different.